Hiring a Sydney Pool Builder Company
Whether you have a small backyard with no room for a pool or you want a large, luxurious in-ground swimming pool, Aroona Pools & Spas can help you to achieve your dreams. You can find the best Sydney pool builders by searching online or asking friends and family who have used their services. Some of the top Sydney pool builders are Aroona pools and Bluewater. They specialize in the design and construction of concrete in-ground pools, as well as hot tubs and spas.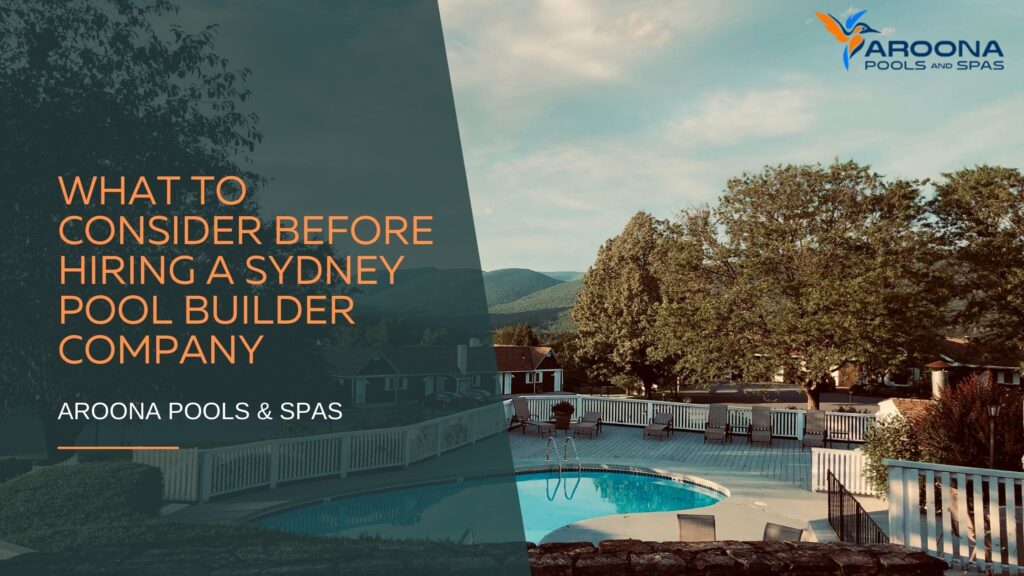 Aroona Pools is one of Sydney's leading pool builders with experience building a lot of swimming pools. Their customer service is outstanding, and they provide complete and realistic quotations with cost-saving ideas. If you have a budget and are considering an in-ground pool, they can build any type of pool you need. They specialize in building complex residential and commercial pools for all types of properties, and they will work with you to create the best design for your unique backyard
Cost of Building a Swimming Pool
The cost of building a pool can be costly at first, but the ongoing savings can make the initial cost worthwhile. For example, you will save money and time compared to traveling to the beach or spending time with your kids in the water. You will also be able to stay at home over the holiday season, allowing you to spend time with them. And a pool adds value to your property, which makes it a valuable investment.
Process of Building Swimming Pool
The process of building a pool can last between three and six months, depending on the complexity and approvals needed. Once the construction is complete, it may take longer, but the savings are long-term. If you have children, they'll love the pool and will use it often, which saves you money. A pool also saves you money and time, and a well-maintained pool adds value to your home.
Local Pool Builder Company
While you can find the best pool builders in Sydney through online research, you can also contact local companies to have them build the pool of your dreams. Some of these companies offer concrete in-ground swimming pools and are more affordable than other options. For a concrete in-ground swimming pool, you can get a custom-built swimming pool from a local company in Sydney. There are many great companies that offer concrete in-ground pools, so be sure to do your research to find the right one for your needs.
Concrete/ Fibreglass Pool Builder
If you have been thinking about building a pool, you've probably considered concrete in-ground swimming pools. They are durable and cost-effective, and they're a great choice for homes. For a concrete in-ground swimming pool, you'll be able to choose a style that fits your space and your taste. If you are looking for the best pool builders Sydney has to offer, you can rest assured that Aroona will give you the best value for your money.
Choose the Swimming Pool Design
There are many options for choosing the perfect swimming pool for your home. You can choose from a range of styles and materials, including fibreglass and concrete. The former offers a variety of advantages and disadvantages and is a great choice for families or businesses with children. You can get a pool in any shape and size, but concrete pools are more durable and can be built to any design you want. These types of pools can last up to five years, so they're an excellent option for commercial environments.
If you live in Sydney, there are many different options for pool construction. There are fiberglass pools and concrete pools, as well as pools made of concrete. No matter the style, barrier-free pool builders will ensure that everything goes smoothly. If you're unsure about what to choose, you can also get quotes from other companies that specialize in swimming pool construction. There are plenty of advantages to both types of pools. If you have a small backyard, a fiberglass pool is a great option.
Conclusion
Sydney is a wonderful place for having a pool. The beautiful landscapes here are the perfect setting for a swimming pool. Whether you have a small backyard or a large, luxurious backyard, a designer can create the ultimate pool for you. In addition to a gorgeous pool, a custom-designed water feature will add value to your home and make it more appealing. You can have it custom-built with the help of a professional.