Find Builders for your In-Ground Swimming Pool Installation in Sydney
#1 in Ground Swimming Pool Builder in Sydney
Swimming pools are a staple of comfortable Sydney living during the hotter months of the year. If you have room in your backyard but no water yet, installing an in-ground swimming pool on your Sydney property might be just the way to enjoy those months from December to February. Having an in-ground pool in Sydney gives you a place to take a dip and cool off, enjoy a refreshing drink, entertain guests, or enjoy a book in a tranquil place when you have a few spare moments. It's the perfect way to get the most from your backyard.
When you're looking for a swimming pool installation in the Sydney area, though, you'll want to consider a few important factors. For starters, think about the fact that this in-ground pool is going to be a permanent fixture of your home. Because of this, it's crucial that you choose builders who will perform high quality work. Having a pool is wonderful, but having an energy-efficient pool that doesn't need constant repairs is even better. A good quality pool will be less likely to require expensive and time-consuming maintenance than a poorly installed one.
You'll also want to look for a company that people seem to trust. Customer satisfaction is more than just an abstract concept—it's a useful benchmark that helps you ascertain the level of service your builders are likely to provide. If you find a company with good reviews from many different customers, it's a pretty safe bet that they'll do a good job. If the company you're looking at regularly receives complaints and bad reviews, it might be best to stay away from them and find someone else.
That's why the 100% Google review satisfaction rate of Aroona Pools makes us an excellent choice for pool builders in the Sydney area. Our quick response rate and careful, detail-oriented approach to the work means that when you hire us, you're hiring professionals who will provide you with the highest quality in-ground pool possible. Remember: a long-term investment like a swimming pool needs to be handled entirely by the numbers, without any shortcuts or corner-cutting. A diligent company such as Aroona Pools offers just that: solid, straightforward work that leaves you with a reliable product.
Clear Communication for Your Swimming Pool Installation in Sydney
When you choose to work with us, you'll also get the benefits of being able to interface directly with your case manager. As reputable pool builders, we believe that clear and open lines of communication allow for much higher rates of customer satisfaction, so we make sure you're always able to come to us with your questions, concerns and ideas. After all, it's your swimming pool, so it's important that you get it exactly the way you want it.
Quick but Sturdy
We use the highest quality materials in all our builds, but don't think that our attention to detail slows us down! We can typically finish a pool in anywhere from 8-12 weeks, which means that you get to start swimming sooner! Call Aroona Pools today for more information on swimming pool installation, or to book a job. We're looking forward to helping you relax.
For the leading swimming pool builders in Wollongong

Aroona Pools and Spas
(Leading swimming pool/spa builders Sydney)
02-9460 0737,
info@aroonapools.com.au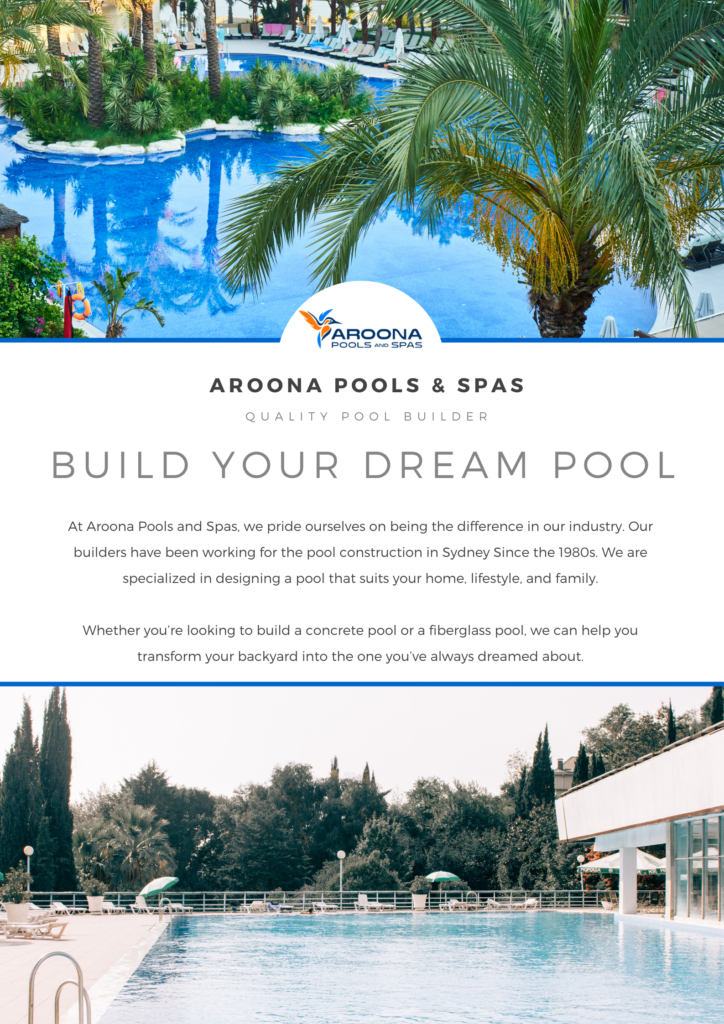 Market Area
Upper North Shore
Lower North Shore